Venue:
UWI Five Islands Campus Cafeteria
Event Details: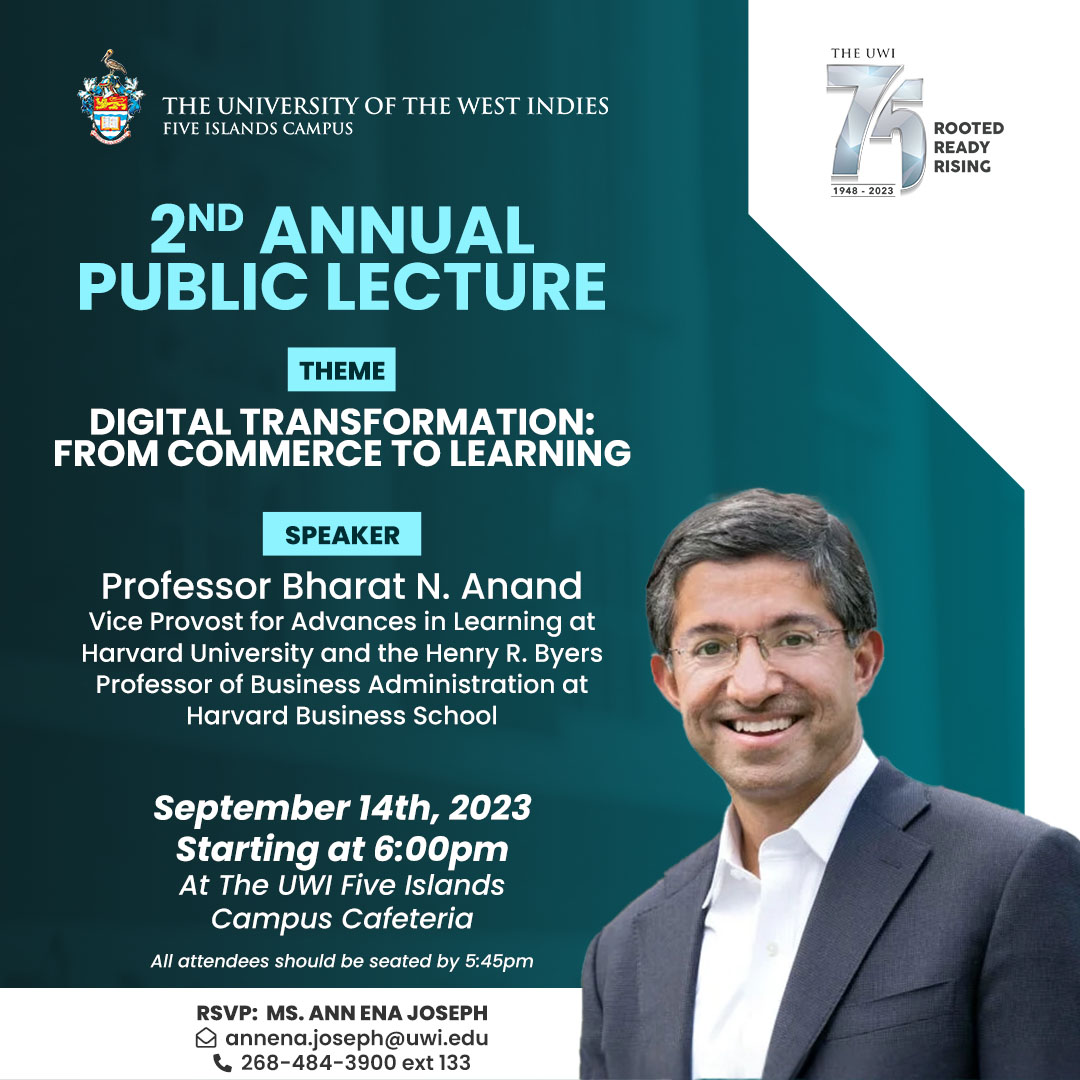 Join Us for an Illuminating Evening of Knowledge and Insight!
The University of the West Indies Five Islands 2nd Public Lecture
Date: September 14th, 2023
Venue: The UWI Five Islands Campus Cafeteria
Topic: "DIGITAL TRANSFORMATION: FROM COMMERCE TO LEARNING"
Keynote Speaker: Professor Bharat N. Anand
Vice Provost for Advances in Learning at Harvard University
Henry R. Byers Professor of Business Administration at Harvard Business School
Join us for a groundbreaking lecture that will explore the cutting-edge realms of digital transformation and its profound impact on both commerce and learning.
Gain Insights from a Harvard Luminary: Professor Bharat N. Anand brings a wealth of knowledge and experience to the discussion.
Illuminate Your Understanding: Discover how the digital revolution is reshaping commerce and transforming the way we learn.
Network and Engage: Connect with fellow enthusiasts, scholars, and thinkers in a stimulating intellectual environment.
Commemorate a Milestone: This lecture is part of the Five Islands Campus celebration of The UWI's 75th Anniversary of celebrating a legacy of excellence.
Attendance is free, but registration is required due to limited seating. Secure your spot now by contacting our event coordinator at 484-3900 ext 133
Don't miss this opportunity to explore the future of commerce and learning in the digital age. Join us on September 14th, 2023, at 6:00 p.m. at The UWI Five Islands Campus Cafeteria for an enriching evening that promises to ignite your curiosity and broaden your horizons.
Spread the word, invite your friends and colleagues, and let's embark on a journey of knowledge together!
Follow us on social media: @uwifiveislands
Upcoming Events Start Date:
Upcoming Events End Date: